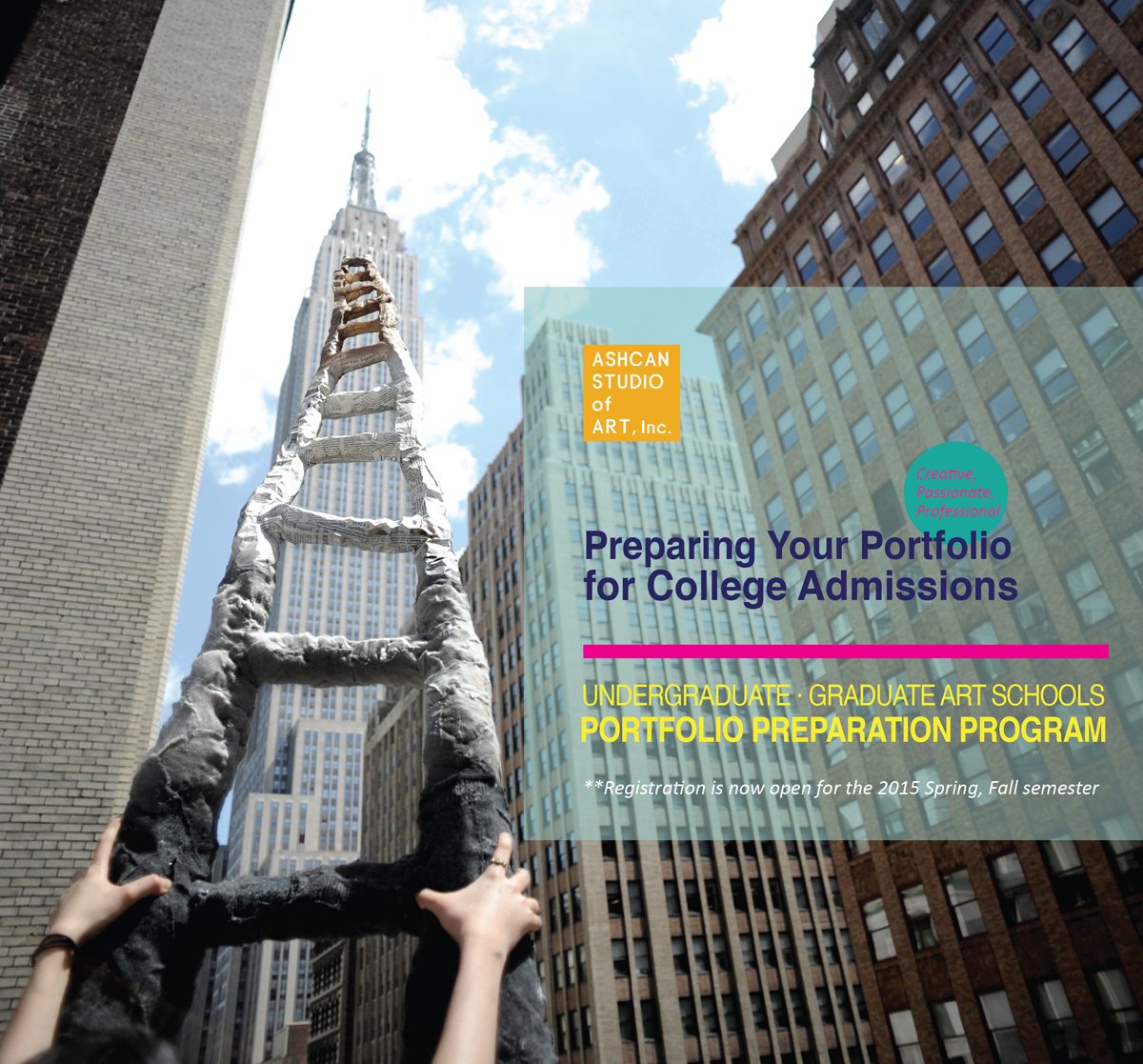 ASHCAN STUDIO OF ART, 
Ashcan Studio of Art is an art school geared toward creative development and portfolio preparation. Our curriculum is an individualized program in which each student's personal interests and skills are the focus. With a lot of hard work, and with the resources of New York City's arts community, 100% of our students have excelled to their greatest potential and have earned admittance into many of the highest-ranked BFA and MFA programs, most having received scholarships.
Undergraduate and Graduate Art Schools
Portfolio Preparation Program
At Ashcan, we believe that artistic growth and development should take place in a diverse and supportive environment. Our students come from around the region and from around the world to study at our studios in midtown Manhattan and Queens. Our instructors are professionals in the visual arts with a passion for teaching. They offer a breadth and depth of knowledge and experience in Drawing, Painting, Sculpture, Illustration, Animation, Theater Design, Industrial Design, Computer&Graphic Design, Fashion Design, Interior Design and Architectural Design.
4. Outside studio experience
· Which school and major are right for me to meet my career goals?
· Will I be able to adjust to the academic environment in the U.S?
· What should I submit as my portfolio?
· When are the deadlines for school applications?
· How should I prepare for the applications, portfolio, essays, interviews, and home tests?
· How can I earn scholarships?
Determine a course schedule according to your individual circumstances
· Course by Semester – (9-month Portfolio Completion Program)
· Intensive Course -(12-week Intensive Program)
· School of Visual Arts 1+3 Course – (SVA Sophomore Transfer Program)
· General Course – (General Portfolio Program)
Specialized Program by major
· Architecture/ Interior
· Accessory
· Fashion Illustration
· Garment Construction
· Toy Design
· Graphic Design
Cultural Exploration
· Field trip with artists to art museums in NYC
· Gallery visits
· Regularly held group exhibitions for Ashcan students (Chelsea, NYC library)
ASHCAN PERSONALIZE PROGRAM
Personalize your program to meet your goals
Ashcan Studio open Monday through Sunday.
3. School of Visual Arts 1+3 Course
· 4 classes per week
· Period: 9 months
· Classes start: beginning of Feb., Mar., Apr. and May
· Level: Basic to Advanced
· 12 classes per week
· Period: 12 weeks
· Classes start: Every Monday throughout the year
· Level: Basic to Advanced
· 1class minimum to 12 classes maximum per week
· Period: 12 weeks to 1 year
· Class starts: Every Monday through out the year
· Level: Basic to Advanced
· 1 class minimum to 12 classes maximum per week
· Period: minimum of 4 weeks
· Classes start: Every Monday throughout the year
· Level: Basic to Advanced
About the course:
· Most effective course for improving skills, especially for students who have limited time to make the most improvement
· Completion of 15 to 20 portfolio pieces
· Regularly held cultural activities
· Specialized courses
About the course:
· Students who need to complete the portfolio in a limited period of time
· Students who are from out of state or country and need to finish a portfolio within a limited period of time
· Intensive courses for application to Cooper Union, RISD, Ivy League, Carnegie Mellon, SVA, Parsons, Pratt, FIT, and others
· Completion of 15 to 20 portfolio pieces
· College Admission Total Service included
About the course:
· Completion of 18 art credits in Ashcan to transfer to the School of Visual Arts as a sophomore
· Portfolio preparation and completion of basic freshmen courses required by SVA (Drawing, Painting, 3D sculpture, Design)
· Apply for second-year transfer to SVA in Fine Arts, Cartooning, Design, Illustration, and Advertising majors
About the course:
· Completion of 10 to 25 portfolio pieces needed for undergraduate and graduate applications
· As there are major differences among graduate schools and programs, preparation periods vary per individual. On average, graduate portfolio preparation takes 6 months – 1 year