VISUAL ARTS PROGRAM
Ashcan Studio's Visual Arts Program was developed to catapult and stimulate creativity. We encourage artistic expression and experimentation in order to develop confidence, and openness to new creative ideas and cultures. The program teaches the historical and contemporary art techniques of sculpture, painting, drawing, and more. The Ashcan Studio Visual Arts Program is for students who wish to improve their skills and excel in the Visual Arts. Under the guidance of Ashcan Studio's Instructors students develop ideas, and learn techniques that lead to the production of outstanding visual artwork. This program is for the most inexperienced artists up through advanced art students.
COLLEGE PORTFOLIO PREPARATION PROGRAM
Which school and major are more profitable for me?
Will I be able to adjust to the Academic environment in the U.S?
What should I submit for my portfolio?
When are the deadlines for the school applications?
How should I prepare for the applications, portfolio, essay, interview, and home test?
If these are your concerns, Ashcan Studio can help you make an informed decision on schools, as well as walk you through the application process and the preparation of your portfolio.
Arts and College Prep Academy:
Ashcan Studio of Art is an art school geared toward creative development and portfolio preparation. Our curriculum is an individualized program in which each student's personal interests and skills are the focus. With a lot of hard work, and with the resources of New York City's arts community, 100% of our students have excelled to their greatest potential and have earned admittance into many of the highest-ranked BFA and MFA programs, most having received scholarships. At Ashcan, we believe that artistic growth and development should take place in a diverse and supportive environment. Our students come from around the region and from around the world to study at our studios in midtown Manhattan and Queens. Our instructors are professionals in the visual arts with a passion for teaching. They offer a breadth and depth of knowledge and experience in Drawing, Painting, Sculpture, Illustration, Animation, Theater, Industrial, Computer, Graphic, Fashion, Interior Design, and Architecture.
ASHCAN COMMUNITY PARTNER ORGANIZATIONS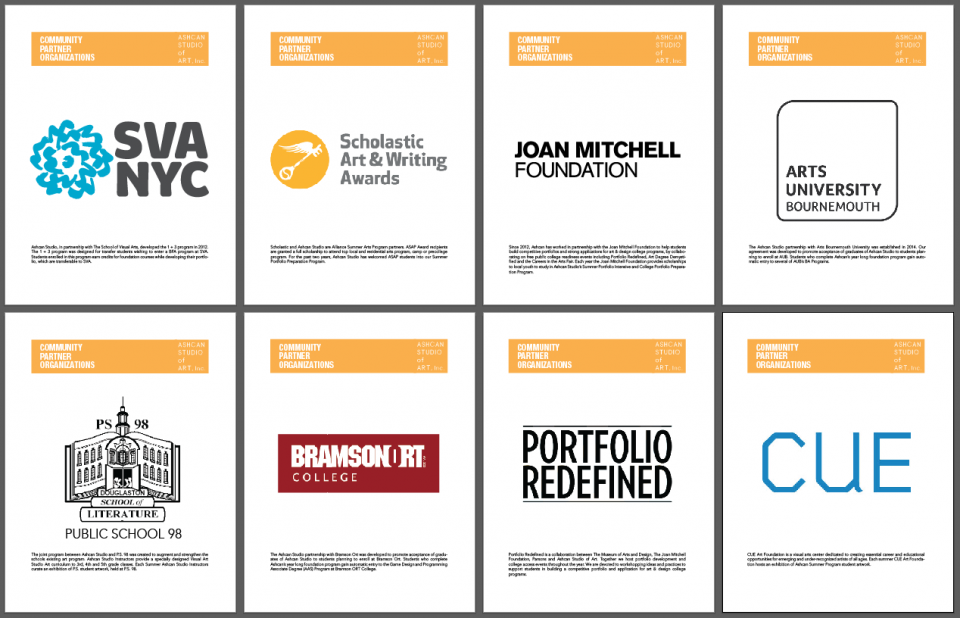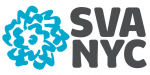 Ashcan Studio, in partnership with The School of Visual Arts, developed the 1 + 3 program in 2012. The 1 + 3 program was designed for transfer students wishing to enter a BFA program at SVA. Students enrolled in this program earn credits for foundation courses while developing their portfolio, which are transferable to SVA.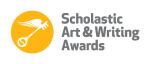 Scholastic and Ashcan Studio are Alliance Summer Arts Program partners. ASAP Award recipients are granted a full scholarship to attend top local and residential arts program, camp or precollege program. For the past two years, Ashcan Studio has welcomed ASAP students into our Summer Portfolio Preparation Program.

Since 2012, Ashcan has worked in partnership with the Joan Mitchell Foundation to help students build competitive portfolios and strong applications for art & design college programs, by collaborating on free public college readiness events including Portfolio Redefined, Art Degree Demystified and the Careers in the Arts Fair. Each year the Joan Mitchell Foundation provides scholarships to local youth to study in Ashcan Studio's Summer Portfolio Intensive and College Portfolio Preparation Program.

The Ashcan Studio partnership with Arts Bournemouth University was established in 2014. Our agreement was developed to promote acceptance of graduates of Ashcan Studio to students planning to enroll at AUB. Students who complete Ashcan's year long foundation program gain automatic entry to several of AUB's BA Programs.

The joint program between Ashcan Studio and P.S. 98 was created to augment and strengthen the schools existing art program. Ashcan Studio Instructors provide a specially designed Visual Art Studio Art curriculum to 3rd, 4th and 5th grade classes. Each Summer Ashcan Studio Instructors curate an exhibition of P.S. student artwork, held at P.S. 98.

The Ashcan Studio partnership with Bramson Ort was developed to promote acceptance of graduates of Ashcan Studio to students planning to enroll at Bramson Ort. Students who complete Ashcan's year long foundation program gain automatic entry to the Game Design and Programming Associate Degree (AAS) Program at Bramson ORT College.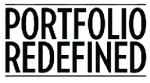 Portfolio Redefined is a collaboration between The Museum of Arts and Design, The Joan Mitchell Foundation, Parsons and Ashcan Studio of Art. Together we host portfolio development and college access events throughout the year. We are devoted to workshopping ideas and practices to support students in building a competitive portfolio and application for art & design college programs.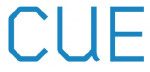 CUE Art Foundation is a visual arts center dedicated to creating essential career and educational opportunities for emerging and under-recognized artists of all ages. Each summer CUE Art Foundation hosts an exhibition of Ashcan Summer Program student artwork.