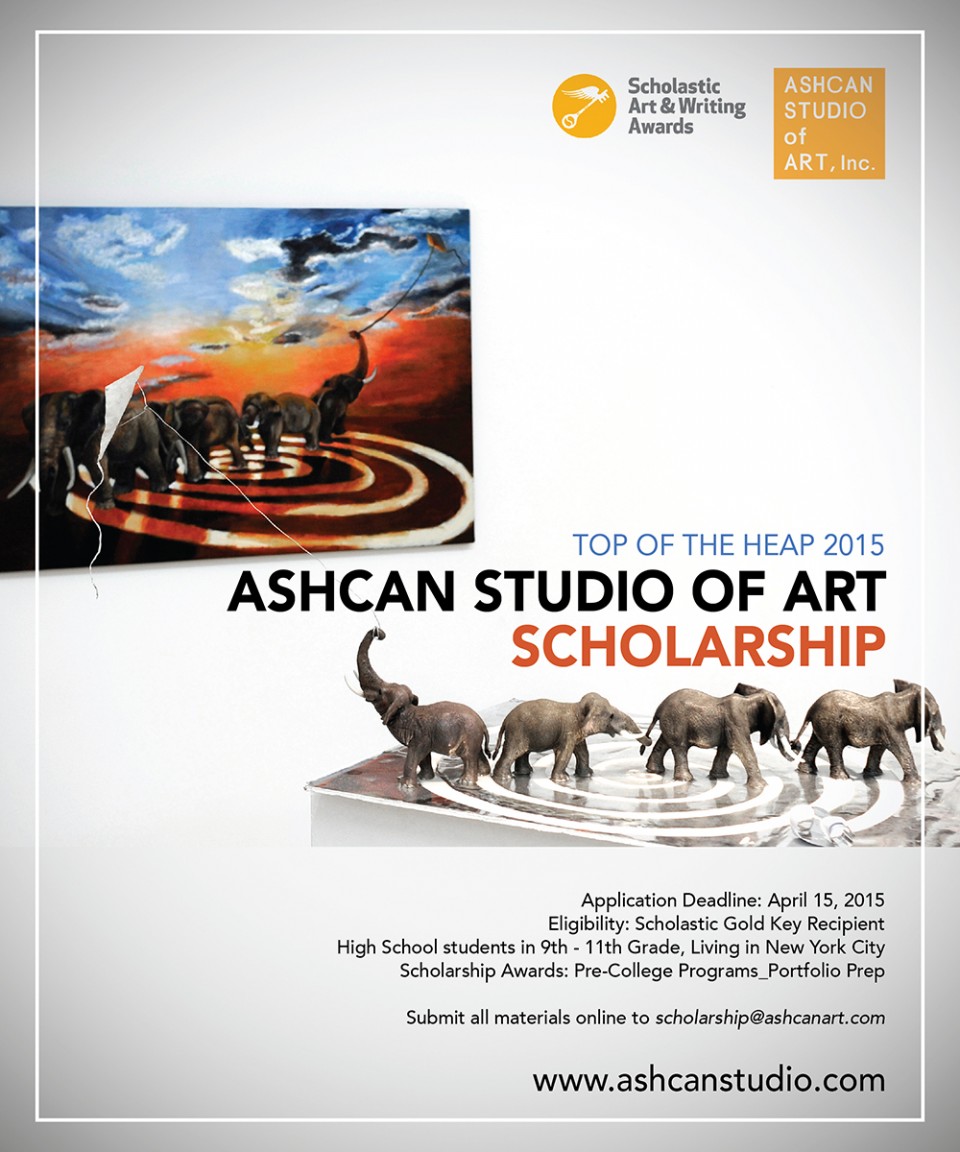 Top of the Heap 2015 Ashcan Studio of Art Scholarship
Application Deadline: April 15, 2015
---
1. Eligibility:
High School students in 9th – 11th Grade, living in Manhattan, Brooklyn, Queens, Bronx, Staten Island or Long Island.
Scholastic Gold Key Recipient
Must be planning to pursue a college education in Art, Design, Architecture or related field.
2. Scholarship Awards:
Grand Prize (9th-11th Grade):
9 Weeks Summer Intensive Program- three 4-hour art classes per week
Professional photographs of works of art created throughout the session
3. Application Process:
Application Form- Complete application form, be sure to sign and date or have a parent or guardian sign and date the form if you're under 18.
Portfolio- JPEGs or web­­­link (i.e. Tumblr, blog, etc.) with 5 jpeg images of applicant's best work and an image list including: title, date completed, medium used, size for each image submitted
Essay- A one page or less essay addressing the following:
Why are you interested in pursuing an education in art and/or design?
(Applicants whose GPA is below 2.8) Please address the circumstances surrounding your grades and how you are working towards a better education and  successful career.
Transcript – copy of most recent high school transcript. (Preference will be given to those applicants with higher GPAs however applicants showing promise in the visual arts, regardless of grades, will be considered for the scholarship and should feel encouraged to apply.)
Recommendation- Art teacher contact information or recommendation letter
---
Download application: click here
Submit all materials online to scholarship@ashcanart.com
Questions about your application, please contact Hayley Palmatier at hayleypalmatier@ashcanart.com